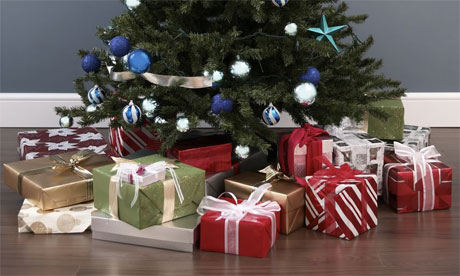 Merry Christmas – Vancouver's CFO advises civic politicians they're entitled to a 2.77% pay raise on January 1st
With Vancouver City Hall slowly emptying out and people heading home for the holidays, a nice little gift was delivered to the elected officials by Patrice Impey, the Chief Financial Officer. The gift came in the form of a memo whereby she advised the Mayor and councillors they are entitled to a raise in pay.
You'd think after all the recent tough talk of budget cutbacks, layoffs and the closure of the Bloedel Conservatory, a few civic politicians would be thinking twice about taking a pay hike during these recessionary times. It doesn't appear so.
On January 1st all the CUPE workers will get a 4% pay hike while the city's managers will get 2% followed by another 2% increase in July 2010. As we previously reported, City Manager Penny Ballem is the only employee who decided to forego a pay increase in 2010 (this according to the Mayor's office spinmeisters – we've never had it confirmed publicly by Ballem herself). We naively thought she might have set the tone for local politicians who are about to receive a 2.77% pay increase in the new year.
According to Impey's memo:
The annual adjustment to Councillors' salaries is the based on the increase in average weekly wage rate for BC for the 12 months ended November. The increase was 2.77% for the 12 months ended November 2009 and is applied to calculate the 2010 salaries as follows:

2009 2010
Councillor $60,014.30 $61,674.56
Mayor $136,232.46 $140,001.26
The Mayor's and councillor's expense accounts (which are tied to their overall salary) are also on their way up. Impey states:
The 2010 annual expense allowance for the Mayor is $14,000.13. In addition the Mayor may either receive a monthly transportation allowance of $600.00 or be provided with vehicle. The 2010 annual expense allowance for Councillors is $6,167.46.
We're unsure if COPE councillors Cadman or Woodsworth will take a page out of BC NDP leader Carole James' playbook and refuse to accept the pay increase. Should the politicians choose to do so, it wouldn't be much out of their pocket. However, it would send a very powerful message that they are prepared to lead by example. Over in Oak Bay, civic politicians have already decided to turn back their pay increment as a way of saving money and demonstrating they recognize the poor economic conditions facing the municipality.
Unlike James, we're told Anton has already ruled out turning back her pay raise. We suspect COPE and the ruling Vision Vancouver will also keep the cash. According to Impey, the pay raise will be a small blip on the overall operating budget:
The above adjustments in base salaries and expense allowance for the Mayor and Councillors, effective January 1, 2010, represent an incremental increase in the 2010 Operating Budget of approximately $23,300.
New: Check out our poll on this subject and let us know what you think the Mayor's pay raise should be.
- Post by Daniel