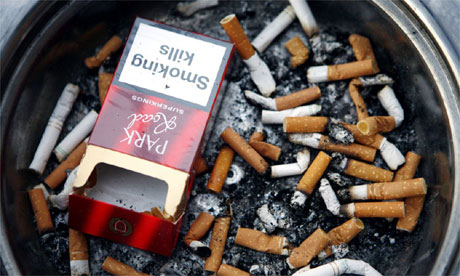 Merchants selling tobacco products in Vancouver might be facing a new $500 annual tobacco license fee if Vancouver Coastal Health lobby is successful
A number of years ago, Domenic Losito, the Regional Director of Health Protection for the Vancouver Coastal Health Authority drafted a report regarding the possibility of Vancouver imposing a new tobacco license fee. For whatever reason, it appears to have never seen the light of day.
According to an email Losito sent to Council on May 11th and now obtained by CityCaucus.com (see emails here), it would appear that a new $500 annual fee might be in the works for merchants who sell tobacco products. Unlike numerous other cities, Vancouver doesn't currently charge this fee.
Here is what Losito told [former BC Deputy Minister of Health] City Manager Penny Ballem and Vancouver Council in his email:
I wonder if Vancouver City Council would like to take the progressive step of enacting tobacco retail license fess (sic) such as those in many Ontario jurisdictions. I had previously drafted a report for Council (promoted by Dr. Fred Bass) which would have seen a $500 annual fee, restrictions on where licensees could operate (e.g. not within 500 metres of a school, not in pharmacies, etc), another enforcement tool for repeat offenders (suspension/revocation of business) with 50% of being targeted at providing public education around tobacco reduction and/or support for cessation aides and counseling for those who make the decision to quit smoking. Such an enactment by Vancouver Council would assist VCH in achieving the target of having a <10% smoking prevalence in our population by the end of 2010! I can dust off my draft report and have it to Council before your summer break!
Losito also provided the City Manager with a list of cities and how much they charge merchants who peddle the cancer causing tobacco products. The list mainly covered cities in Alberta and Ontario. Ottawa was listed as charging $360 dollars, while Toronto was listed as charging nothing.
I response to Losito's request, Raymond Louie, former Vision Vancouver mayoral candidate, now Chair of the PNE Board and city councillor wrote an email on May 11th to his colleagues and stated:
If I recall this discussion correctly, there was an issue with overcharging for these licenses as we have a policy of cost recovery for business licenses. Tim do you remember?

We were able to charge more for the Bars as we spent more on the enforcement. If we can generate more revenue without getting into trouble, I'm in.
Councillor Kerry Jang then piped in with this response:
This looks very interesting. I am interested!
Not to be outdone, Councillor Heather Deal provides her sage and thoughtful commentary:
Good! Where's the central party tomorrow night?
If you recall, the provincial election in BC was on May 12, a day after the email exchange. It looks like the councillor was trying to scout out where the NDP would be hosting their post campaign party the following night. Thankfully, the event was held in a no-smoking ballroom.
A fellow by the name of Rob Cunningham, who appears to work for an Ottawa cancer agency, was caught up in the email trail and he outlined the merits to Council of a possible $500 fee including increased revenue:
Retail licensing and license fees have several benefits, including:

increased revenue for municipalities - many municipalities are in difficult budget situations.
knowing the location of all tobacco retailers in important to effectively enforce legislation on (a) contraband, (b) retail displays and (c) sales to minors. How can there be an efficient enforcement strategy if inspectors are not aware of all the stores selling tobacco?
a personal should demonstrate that they are serious before they are allowed to sell tobacco products. Given the addictive nature of the product, it is perfectly reasonable to require that a license be necessary to sell tobacco products. It should not be the case that just anyone can sell tobacco. A reasonable tobacco licence fee is appropriate.
local government can recover costs for its tobacco initiatives, such as enforcement. Higher licence fees and thus licence fee revenue might pave the way for enhanced local initiatives.
BC currently has the lowest incidence of smoking in the entire country. As a non-smoker, that's simply another reason why I love this province so much!
It is not clear how much additional revenue the City of Vancouver stands to collect if they impose a $500 license fee, but it is likely in the six figures. That's even with the overall number of smokers on the decline.
I should add that if the $500 license fee is only imposed on Vancouver merchants and not those in neighbouring municipalities, you can expect to hear some additional grumbling from the businesses affected.
I actually don't have a problem with the fee, as long as it can be clearly demonstrated to help in reducing the overall incidence of smoking, and is not simply a tax grab. However, if this initiative is merely a revenue generator as Councillor Louie eludes to in his email, I question whether it will get much public support.