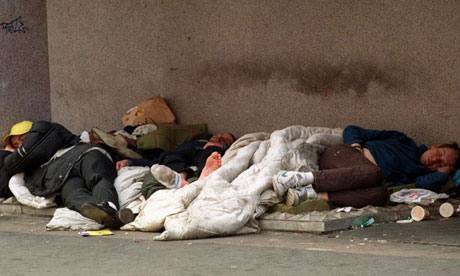 Vancouver agrees to conduct a full review of its procedures after the death of homeless man during recent record heat wave
As many of our regular readers know, we recently wrote a post about Curtis Brick, the aboriginal homeless man that died in an Eastside park in Vancouver while locals sat by and sipped on their iced lattes. It was the hottest day of the year, and Curtis Brick allegedly laid on the ground in the full sun for six hours before someone finally called for help.
It has been reported that emergency officials took up to 45 minutes to get on the scene and that some derogatory remarks may have been made toward Brick. As a result, friends and community activists have called upon the coroner to undertake an inquest into the circumstances that led to Brick's death.
If you recall, I wrote a post about how little was being done by the City of Vancouver and the Mayor's office regarding communicating to the public the hazards of hot weather on homeless people who do not always have access to shelter. After I wrote my post, the Mayor's office hastily drafted a news release which was posted on the City website. Given all the advance notice of the pending heatwave and the Mayor's claim that he ran to solve homelessness, it seemed like a feeble attempt at damage control.
Today the Tyee is reporting that Vision councillors Andrea Reimer and Kerry Jang would like to get to the bottom of what happened to Brick. According to the Tyee, not only are they calling for Council to support a coroner's inquest, they are actually trying to determine if anything more could have been done by the City to help the homeless during periods of extreme heat.
The Tyee reports that the City will:
...review its emergency services for extreme weather to see if there are any ways to enhance those services.
They also state:
Jang said while the city has taken some good steps this summer, setting up shade tents, and handing out water on the Downtown Eastside, there is room for improvement. We can't just assume that the homelessness population is going to get by on its own, he said.

"That's the thing that bothers me the most, that we've become so complacent about the homeless population. We're just so used to it that we don't care anymore."
While I applaud Reimer and Jang for their request to conduct a full review of procedures relating to hot weather response, I disagree with Jang that the citizens of Vancouver don't care about the homeless.
I think most care, they simply don't know what to do when they see a homeless person on their street or in their local park. Furthermore, they likely weren't aware of the increased risk to a vulnerable population like the homeless during a period of extreme heat. Given the limited information provided to them by local health officials and the Mayor's office, you can fully understand why.
I trust that the City's review of its policies and procedures won't be similar to the review they conducted behind the scenes after snowmageddon. Given the fact that Curtis Brick died, they need to ensure that the review is conducted at arms length from the City and that they seek as much public input as possible. In addition, they should immediately commit to making all of the recommendations and findings public in order that they can be properly scrutinized by the public and media.
I look forward to reading the results of both the coroner's inquest (assuming there is one) and the City's policy and procedures review. Hopefully they will provide a blueprint for how to better handle extreme heat conditions as it relates to our homeless population. If they do, it will be a fitting legacy in honour of Curtis Brick.