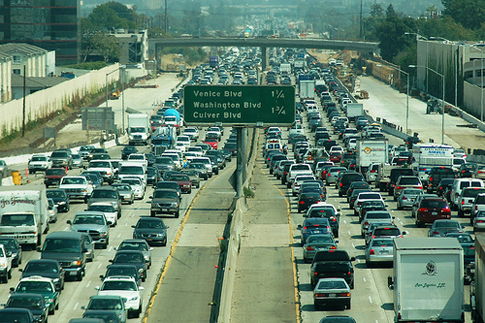 Los Angeles is now in almost perpetual gridlock restricting people and goods movement
If any of you have been wondering why I haven't posted anything on the blog over the last couple of weeks, nor made appearances on the Bill Good Show, it's been due to the fact I took the family down the west coast to Anaheim for a trip to Disneyland. On the way down, we made pit stops in Portland, San Francisco and Los Angeles.
Let me first say that we had a great trip. For the most part, the Americans we met were friendly, generous and completely hospitable during our visit. However, as the co-editor of an urban affairs blog, it was hard for me to travel to three large American cities and not make some mental notes of how they compare to Canada's urban centres.
Although there are many interesting comparisons I could delve into regarding both Portland and San Francisco, I'd like to focus on my experience in Los Angeles - a city which by all accounts appears to be on the verge of a major transportation and economic crisis.
I've traveled to LA a half dozen times or so over the last couple of decades. It has always been a special place for me to visit as I alway enjoy Southern California's climate and its myriad of attractions. However, this most recent visit will likely be my last - at least for a really long time.
Twenty years ago LA was a busy city with a spaghetti network of interstate freeways that were busy, but you could always get around. Today, the urban centre known as Los Angeles is almost always in gridlock. Major roadways like the I-5 which cut through the city resemble more of a parking lot, than a major engineering marvel meant to keep people moving. I actually laughed aloud when I saw signs the engineers put up saying "maximum speed 65 mph".
We drove into LA at about 10 pm at night hoping that traffic would be lighter than during "rush hour". We were so wrong. Once we reached the outskirts of LA (about 30 miles away from the core) our speed quickly dropped from about 65 mph to only 35 mph. The closer we got, the slower it got. Eventually it was bumper to bumper once we arrived in Hollywood.
The so-called HOV lanes were useless as they are only in effect during designated "rush hour" periods [they are obviously still in denial that rush hour now last more than 60 minutes]. So despite the fact there were four of us in the vehicle, we were crammed in with all the other single occupant vehicles plodding their way along Hollywood 101 freeway.
"Where are all these people going at this time of the night," my wife asked me. It wasn't the last time that question would be asked over the five days we spent in LA. In fact, you couldn't help but feel like LA was on the verge of some transportation crisis. With simply no more room to expand their super freeways, how would they cope with even more cars being put on the road each year? Even if they did have the room to expand their freeways, clearly building more lanes wasn't the answer to their traffic woes.
Extremely poor planning decisions which encouraged the growth of suburban neighbourhoods is at the root of the transportation mayhem facing California's largest city. For as far as the eye can see, there are thousands of acres of single family homes sprawling North, East and South of the downtown core. The downtown itself is almost void of any life after 5 pm as only a handful of residential towers have been constructed to help bring people into the core. Most disappointing is that despite knowing what the pitfalls are, low density growth continues unabated throughout the region.
I do have some fond memories of Disneyland and my son enjoying his experience, however, I have far too many other memories of being stuck in LA traffic. In fact, on the day we left to head back to Vancouver, we actually had to wake up my son and 11 year old niece at 5 am and get on the road by 5:30 am in order to avoid getting stuck in gridlock on the I-5. I must say I did feel for the people who must get up by 4 am every morning in order to get to work on time in the LA basin. What a horrible existence.
On the long trip back to Vancouver, I had quite a few hours to ponder my most recent LA experience and compare it to the Vancouver region and its future growth plans. As a result, I can't help but look at plans to facilitate vehicle use by expanding the Port Mann Bridge, as well as other recent "shovel ready" road construction projects with a bit more skepticism. I can't help but look at the proliferation of new low density, car-dependent single family housing developments in the Fraser Valley and wonder if it will become our version of the San Fernando Valley. I also wonder if our visionary multi-billion transit plan will ever see the light of day.
I grudgingly admit that I am even looking at the recent lane re-allocation trial on the Burrard Bridge in a different light. If the future of Metro Vancouver really does look even a little like LA, and facilitating more vehicle use will get us there, then perhaps removing one lane on a six lane bridge wasn't so bad a decision after all. Dare I say it might even be time to retire our $35 dollar "www.gregorsgridlock.com" investment and prepare for the onslaught of "I told you so" emails. I've asked to put this topic on the agenda for our next backroom CityCaucus corporate executive meeting next Wednesday. I'll keep you posted.
So there you have it. I brought the family down to LA simply expecting a lot of good memories and a fun time in the sun, and I came back a changed man! There is no way on earth I would ever want Metro Vancouver to become even a tenth of what LA has become. As a result, I'll do everything possible to ensure that it never happens.