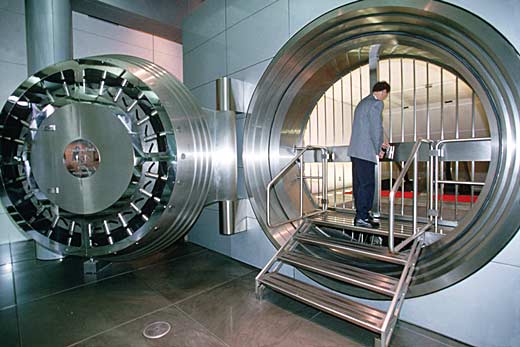 A Vancouver City employee retrieves a copy of the Judy Rogers severance agreement. It had been locked in a secret vault directly below the Mayor's Office - before we got a hold of it
Not a lot of folks have heard public comments from former City Manager Judy Rogers since she was unceremoniously fired by Vancouver's Mayor Gregor Robertson last December. After a bid of prodding from some urban affairs bloggers, it was subsequently revealed that Robertson's decision triggered a $570,000 payout to Ms. Rogers.
CityCaucus.com has now obtained a copy of the severance agreement signed between Ms. Rogers and the City of Vancouver. It's clear that Robertson and his team did everything legally possible to ensure the public, media and City employees would never hear Rogers' version of events as it pertains to the Olympic Village issue and beyond. There goes that openness and transparency thing again.
The severance agreement includes a special gag clause which reads as follows:
Ms. Rogers covenants and agrees that she will not, at any time or in any way, disclose to any person any of the details, terms or conditions of the Severance Agreement or this Release unless required to do so by law or for the purpose of obtaining confidential tax, legal or accounting advice.
Our advice to the opposition councillors in either COPE or the NPA would be to move that this gag clause is struck from Rogers' agreement in order to allow the public to hear from Ms. Rogers her side of what actually happened regarding the Olympic Village project.
The severance agreement goes on to state:
Ms. Rogers agrees to keep the terms of this settlement confidential in perpetuity, except that she can reveal the terms to obtain legal and financial advice but will advise her legal or financial adviser that they are obliged to keep the terms confidential.
The document provides a detailed explanation of what Rogers was entitled to when she was let go including:
The City will continue to pay the salary which Ms. Rogers would have earned had she remained employed, on a bi-weekly basis, less the usual payroll deductions, commencing on January 1, 2009 and ending on May 30, 2009. During this period, if necessary, the City will take the steps available to it to confirm Ms. Rogers' employment status for the purposes of Municipal Superannuation Plan. [are there any lawyers out there who know what this section really means in English?]

During the period to and until May 30, 2009, all health and welfare benefits will be maintained in effect. Ms. Rogers shall have an option to purchase her lease vehicle in accordance with City policy. Whether or not Ms. Rogers exercises her option, the City will pay to Ms. Rogers monthly an amount equivalent to her previous average monthly car allowance payments, including lease payments, up to and including May 30, 2009.

If Ms. Rogers obtains new employment before May 30, 2009, then no further payments will be made to her under this Settlement Agreement.

If Ms. Rogers has not obtained alternate employment prior to May 30, 2009 the City will, on that date, pay her an amount equivalent to 15 months base salary (based on salary escalators which would take effect during those 15 months). The City will also pay Ms. Rogers the sum of $30,000.00 in respect to foregone pension accrual. These moneys will be paid in a lump sum in such tax efficient manner as Ms. Rogers legally directs and subject to all requisite statutory deductions.
The Severance Agreement was signed on December 10, 2008. This is only two days after Vision took office, and shortly after Vision Councillor Raymond Louie told the Georgia Straight:
I don't think Judy should fear for her job,
As they say...famous last words from a man who used to have significant influence within his party.
NOTE: Just getting word that the ink is almost dry on the severance agreement for another high profile former employee who left the City a few months back. Stay tuned for more on this developing story in the coming days.