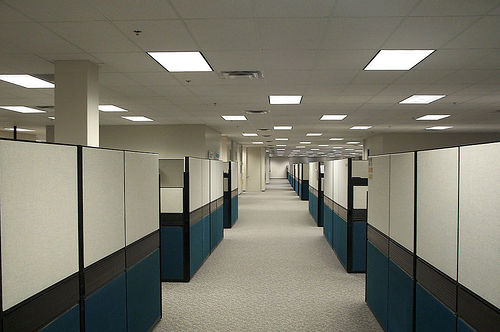 Are empty offices going to become more commonplace at Vancouver City Hall?
You can find the most amazing things on blogs. Take for example a recent posting made by Alex Youngberg, CUPE 391 President. She is the head of the powerful library workers union in Vancouver. What...you don't remember what a library is? It's that place you go to get a hard cover book.
Only months ago, Youngberg and her union colleagues were out there complaining about what a terrible relationship they had with City management - in particular former City Manager Judy Rogers.
Well...as they say, that was then, this is now. Youngberg posted a fascinating Cole's Notes version of a recent meeting she had with new City Manager Penny Ballem. In reference to her conversation with Ballem, one of the more interesting statements posted on her blog is:
"Dr. Ballem does not believe [cost] savings are achieved through layoffs"
Wow...this will be a news flash to every single private enterprise out there who've been laying off folks faster than you can say recession. The blog goes on to reveal the following exchange that Ballem had with IOC bigwig Jacques Rogge:
Favourite Ballem quote when asked about her meeting with IOC President Jacques Rogge, "Guess what? Our uterus won't drop out when women ski jump". Our collective uteri applauded.
Then Youngberg goes on to speak about how the City Manager and the union brass now share a common purpose:
Dr. Ballem says that we may not always agree with each other but understands that we have common goals.
For those worried about the current core review process being implemented at City Hall, you need not worry:
One thing that she will be doing is engaging the management team on an evaluation of core services. This is a "high level" discussion about the operations of the city. This is not getting into the minutia of departments.
As for that hiring freeze Vancouver taxpayers heard about...well some might be a bit cynical after reading the following comment on the blog:
The city manager did take several questions on the hiring freeze and acknowledged that it was a coarse instrument that is only designed as a bridge. She sees it being as temporary as possible.
We at CityCaucus.com don't quite know what "temporary as possible" means...but could it be that the freeze will be lifted right after the City's budget is approved? Hmmm...we'll have to wait and see what happens.
Clearly Ballem is reaching out to the unions, and for this she should be applauded. A good dialogue between the City's management team and its unions can only be seen as good progress in building better relations.