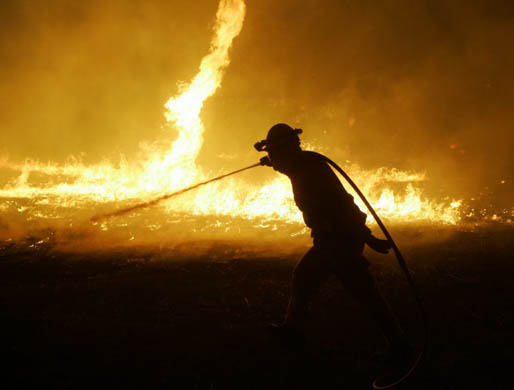 Vancouver's top firefighter has called it quits. There were rumours swirling about this for weeks and now we can confirm it's official.
Ray Holdgate will be packing it in after 35 years on the job. He is one of the nicest guys you could ever meet and Vancouver has lost one of its best public servants. His rocky relationship with the Vancouver Firefighter's Union...well, not so hot. We'll have more to report on that in the coming days.
So the body count rises by one. The City of Vancouver recently lost its City Manager, Deputy City Manager and now the Fire Chief. It is expected that within weeks another big shoe is about to drop...stay tuned for that one, it will knock your socks off.
Here is a copy of the email sent out by City Manager Penny Ballem:
_______________________________________
From: Ballem, Penny

Sent: Tuesday, February 24, 2009 5:22 PM

To: Robertson, G; Anton, Suzanne; Cadman, David; Chow, George; Deal, Heather; Jang, Kerry; Louie, Raymond; Meggs, Geoff; Reimer, Andrea; Stevenson, Tim; Woodsworth, Ellen

Cc: Corporate Management Team (COV) - DL; Au, Wendy; Coulson, Marg; Fast, Roger; Hui, Tony; Kay, Monica; CMT Admin Assts - DL

Subject: Retirement of Vancouver Fire and Rescue Sevices General Manager, Ray Holdgate

Importance: High

After 35 years of service, the General Manager of Vancouver Fire and Rescue Services, Fire Chief Ray Holdgate, has announced his retirement effective May 1, 2009.

Chief Holdgate has held the position since 1998. He worked his way up through the organization from a firefighter to a training officer, Assistant Fire Chief and then Fire Chief.

Among other accomplishments, Chief Holdgate was involved in the development of Vancouver's Emergency Salt Water Pumping System for earthquake preparedness, and E-Comm, the City of Vancouver Emergency Operations Centre and Emergency Services dispatch facility.

Retirement plans include spending time with his grandchildren and sailing in the Gulf Islands. (Yahoo!!)

I want to thank Ray for his tremendous contribution to the City and VFRS over the last 35 years, and I know everyone will join me in wishing him a happy, healthy retirement.

I also want to thank Deputy Chief John McKearney for agreeing to take on the Acting Chief position while we complete a search.

Penny Ballem, MD, FRCP
City Manager
penny.ballem@vancouver.ca
tel: 604.873.7626
fax: 604.873.7641